Some people just always stick together no matter what and some people treat food the same way. Certain combinations are just very ubiquitous, banana and chocolate, hazelnut and chocolate, strawberries and chocolate...wow some really needs to give chocolate a rest. Anyways, another is pork and apples. I mean Homer Simpson sure loves pork chops and apple sauce.
Now it gets kinda boring and shaking things up is great! But these combinations are so popular for a reason: they work really well together. Somehow pork just works well with fruity flavours like apples.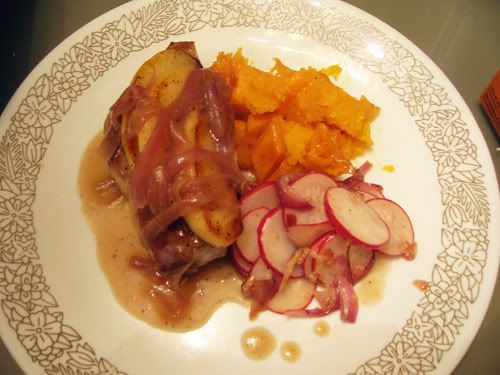 Now I'm no fan of apple sauce so I just sauteed them in butter and made a reduction type sauce. I also paired it with sauteed radishes with onion and garlic and roasted a squash with maple syrup (I'm so Canadian).
Pork Chops and "Applesauce" with Sauteed Radishes and Maple Glazed Butternut Squash
Servings: 2
Ingredients:
Pork Chops - 1 (around a pound or 454g)
Apples - 1 (I used a Gala apple but you can use another if you like)
Red Onions - 200g (bout one regular sized one, you can use other onions if you like yellow ones or something)
Butternut Squash - half
Radishes - 250g (bout 10? Honestly I just took a bunch, but I think five per person is good)
Garlic - 3 cloves (I love garlic though)
Maple Syrup - 250 ml (a cup, or even more if you really like maple syrup)
Unsweetened Apple Juice - 250 ml (2 cups)
Chicken Stock - 150 ml (bout little bit more than 1/2 cup)
Thyme - 2 sprigs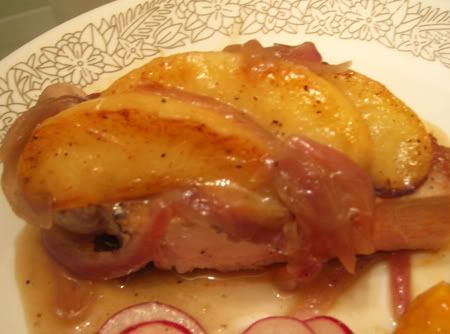 Pork Chops and "Applesauce"
Applesauce:
1. You should start with this first, peel and cut the apples into six pieces, now use a paring knife and cut out the seeds part, now put the parts that you've trimmed in a large cheese cloth (or you don't have to but it'll make your life easier)
2. Pour the apple juice and chicken stock on low heat to simmer and let it slowly reduce
3. Add the trimmings and thyme
4. Julienne half (HALF) an onion and then add it to the liquid
5. Make a slurry, which is cornstarch with a little bit of cold liquid (usually just water), and add to the liquid. DON'T, I REPEAT, DO NOT!!!! JUST ADD THE CORNSTARCH!!! The heat will just turn it to a great big lump!
6. Anyways, turn up the heat a bit so the cornstarch will thicken and then lower the heat when it starts to do it's job
7. Take the trimmings ad thyme out (this is why you should have used the cheesecloth, or you could have simmered all the flavor out of the trimmings first and strain them through a mesh and then add onions, or if you want a clear sauce, you can just strain everything at this step)
8. Season with some salt and add some more apple juice or chicken stock depending on whether you want it to be more sweet and fruity or more savory, anything's possible when cooking!!! You can even add more onions if you like onions!
9. For the pieces of apple, add some butter to a non-stick pan at medium - medium low and when the butter starts to bubble and just saute the apples till it has some browning, I will use clarified butter just to be safe and not have burnt buter.
1. Preheat oven to 350
2. Cut the pork chop in half, width-wise 454g is a bit big for me so I use one chop per 2 people, yea you can buy thinner chops but I really like the thickness
3. Season the pieces with salt and pepper
4. Heat the pan to medium high, add oil and brown both sides of the pieces
5. Transfer the pieces to the oven, middle rack, until the pieces reach 150, it should feel firm but not rock hard, you can push in the meat easily but it will bounce back quickly, look at my last post for reference for how it should looks inside
6. Keep the meat in the pan and cover with foil when it's done so the heat won't escape.
7. Serve with a three pieces of apple on top of the chop and ladle some sauce on top
Sauteed Radishes
1. This is so easy, wash and slice the radishes thinly, I'll use a mandoline for optimum thickness (2 mm)but you can slice them with a knife as well
2. Mince the garlic cloves
3. Julienne the other half of the onion, just melt some butter at medium heat and saute at medium high heat.
4. Add the garlic and radishes until the radish is done to your liking
Maple Glazed Butternut Squash
1. Turn oven to 350
2. Cut the butternut in half and take out the seeds
3. Using a knife, make a cross hatch patter on the squash, cut into the flesh (until near the skin) to make diagonal lines and then cut perpendicular lines, this will make the glaze fall into the sides so there'll be more maple coverage
4. Melt some butter and brush it on the squash, get a pan and add a bit of water and put the squash on the pan and into the oven in the middle rack
5. Now in a small pan add the maple syrup and simmer on low heat to reduce to a more syrupy consistency, then add a little bit of butter (that's optional but I like the flavor butter adds, who doesn't?!).
6. Once you're done reducing, brush on the maple syrup and do that every once in a while until the squash is very tender
Whoooooo! So this meal is a bit more laborious but I really liked it, a more sophisticated one I guess. Pork had a nice juicy interior with a nice crust and the flavor of the pork does really go well with the apple. Also I love radishes and it gives some crunchy texture to the meal while the butternut squash make the meal whole and like the pork plays along the lines of savory and sweet.
http://joyciel.livejournal.com/